What is it?
Kidcot is a fun and free activity to engage your kids (or yourself) with the culture of each country inside World Showcase!
In each of the 11 countries you will find a table marked as a "Kidcot Fun Stop".  Be sure to look for this Fun Stop sign and keep reading below for hints on finding the location.
When you arrive at your first Fun Stop – you'll be given your Ziploc bag suitcase + a passport card for that country.
The front of the card is going to give some facts on the country while the back will have a Disney image relating to the culture.  Colored markers are available at each stop if you'd like to color the back.  
Where are the locations?
Some are clearly visible inside each country, but some are tucked away and harder to find.  
Mexico Pavilion (near Mexico Folk Art Gallery)
Norway Pavilion (at The Puffin's Roost)
China Pavilion (near the exit of Reflections of China)
Germany Pavilion (at Volkunst)
Italy Pavilion (outside, near La Bottega Italiana)
American Adventure Pavilion (outside, near Art of Disney)
Japan Pavilion (in the Bijutsu-kan Gallery)
Morocco Pavilion (at the Marketplace in the Medina)
France Pavilion (at Souvenirs de France)
United Kingdom Pavilion (at The Toy Soldier)
Canada Pavilion (at the exit of Canada Far and Wide in Circle-Vision 360)
Who can do it?
Anyone!  All ages are able to participate – the fun isn't just for kids. 
Passport for Purchase
You can find these for purchase all around World Showcase!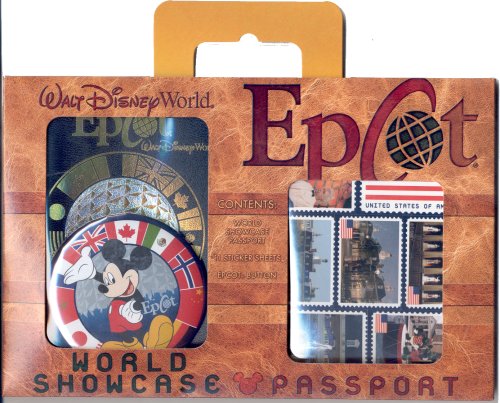 What else do I need to know?
Kidcot operates the same hours as World Showcase.  Be sure to check your times guide for operating hours on the day of your visit.
You can start at any location!  There is no first stop you must make to get your bag.  This is a great filler while you wait on a FastPass or other reservation time.  If you do finish and visit all 11 countries – make sure you check in at your last Fun Stop location and let them know you collected all your cards.  You'll get a special surprise postcard.
The experience is definitely what you make it!  Take the time to ask the Cast Members at the tables questions about their country and culture.  All of them are native to the country you are visiting.  You can even ask them to write your name or phrase, on the card, in their native language.
Have you experienced the Kidcot program at Epcot?  What did you think about it?  If you haven't – what questions do you have?