Part 2: What Do I Pack And How Do I Get There Sanely?
So you've got the wheels turning in your head…you are slowly starting to realize that traveling with a child under 5 may not be as bad as you thought.
You've got an idea of what to expect and how to prepare your little princess or pirate for the big adventure that is about to come.  So now what?  What in the world do you need to pack for them?  How do you make the trek to the park and still have your sanity in tact?
In part 2 of this 3 part series I'm going to answer just that.  What do you need to pack to ensure that you have all your bases covered when traveling with a baby, toddler, or preschooler?  How do you entertain them in the car or on the airplane?
What do I pack?
You'll want to bring some sort of autograph book.  A large part of the Disney experience is meeting your favorite characters and getting autographs!  You crafty mommas and daddies out there can make one, or they are for sale in the parks.
Make sure you bring comfortable shoes if you have a walker.  They will be doing a lot of walking and standing.  The last thing you want is a cranky toddler with hurting feet!
If you are not bringing your own stroller I recommend checking out Kingdom Strollers for stroller rentals!  The parks will also have ones to rent for day use.
Pack small snacks for your diaper bag or book bag!  
Sunscreen, wipes, hand sanitizer, and band-aids are good to have on hand, too. Be sure to have plenty of diapers and an extra change of clothes.
A water bottle – water is free for park guests.  If you walk up to a quick service window and ask for a cup of water they will give you one free of charge!  You can easily pour it in to a water bottle or sippy cup.
Some parents like Safety Tattoos in case their kiddo gets lost in the crowd.  
Forget something?  Don't panic!  The parks have Baby Care Centers that provide the following:
Private nursing room with rocking chairs 

Changing room with tables and a unisex bathroom 

Feeding area with highchairs 

Kitchen with microwave, oven and sink 

Main room with television, table, chairs and sofa 

On-site shop offering formula, baby food, juice, diapers, wipes, sunscreen, over-the-counter medications and clothing for purchase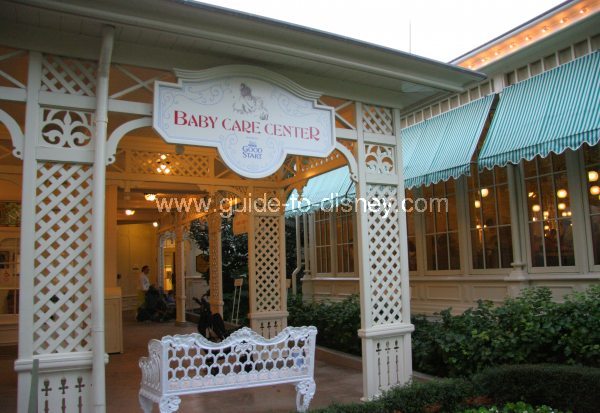 They are a great place for families to unwind and take a minute to recuperate! There are even small tables and chairs with Disney movies playing for brother and sister to sit while mom and dad tend to younger siblings.
(image from disboards.com)
Locations in Disney World:
Magic Kingdom: If you are facing the Crystal Palace it is behind it and to the left near First Aid.
Epcot: There is a walkway between Duffy the Bear and the entrance to Mexico that leads to the Odyssey Center.  Take this walkway and it will be straight ahead.
Hollywood Studios:  At the entrance, take a left past the palm trees
Animal Kingdom: Right beside Creature Comforts in Discovery Island
Locations in Disneyland:
Disneyland Park: At the end of Main Street next to the First Aid Center
California Adventure: N

ext to 

Ghirardelli Soda Fountain and Chocolate Shop

 and across from 

The Baker Tour

 in Pacific Wharf.
How can I entertain them in the car or on the airplane?
Snacks, drinks (check with your airline carries for specifics)
Disney movies to help keep up the excitement
Lap board with coloring and sticker books, crayons, markers.  You can even print out pictures of the places you'll see on your trip for the kids to color. Small children could do well with Crayola Color Wonder products.
Post It Notes can be written on and stuck on car windows or airplane windows/tray tables (just remember to take them with you when you leave!)
A lovie, stuffed animal, etc..to help them feel connected to home
Travel sized Magna Doddle
Card games (like Uno, Go Fish, Old Maid)
Disney CDs to play in the car
Scavenger Hunts (HERE is a really cool airport scavenger hunt, HERE is one for an airplane, and HERE is one for a road trip)
Do you have any other packing or travel tips or tricks for Disney under 5?  We'd all love to hear them.  Let us know in the comments.
Check back tomorrow for Part 3: Park Secrets
Did you miss Part 1 on preplanning tips for kids under 5?  Click HERE to check it out!
Are you a beginner to Disney World?  Be sure to check out THIS post on the top things to know when planning a Disney World vacation.