If you have never heard of Antigua here are the reasons to put it on your bucket list. We recommend this destination for several reasons and have got to tell you a few facts that will convince you to visit this awesome island!
1- It is an Independent country and is part of the Commonwealth. First language is English making it easy to communicate with locals. They also drive on the opposite side of the road making for interesting first experience for some.
2- The Islands are part of the Leeward Islands off the coast of Venezuela and between the Dominican Republic and Trinidad and Tobago. Where the Northeastern Caribbean Sea meets the Western Atlantic Ocean. Antigua is the bigger of the two Islands….which you can do a round trip in about 2.5 hours. A special excursion that sails a circumnavigation of the Island is one of the highlights of your trip.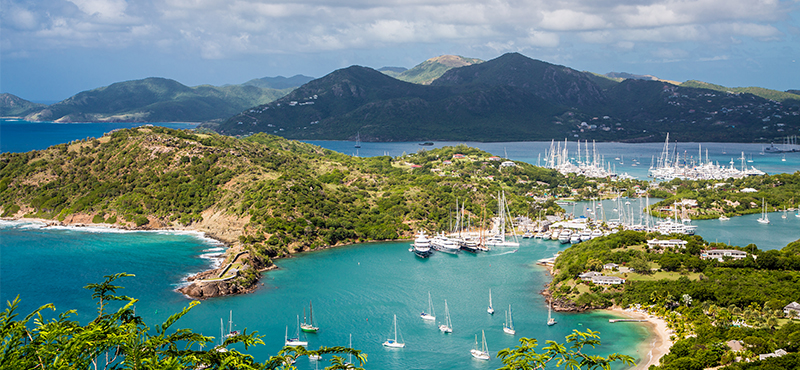 3- 365 beautiful pristine white sand beaches, clear turquoise blue waters and did we mention palm trees everywhere.
4- Getting there is easy. From the USA with British Airways or Virgin Atlantic it is only a 5.5 hours flight.
5-Sun, Beaches and Nature. The beaches are not crowded here. And did we mention mountains. Yes ,they have them too. Great vistas from every angle. We were not expecting views like those from Shirley Heights especially at sunset. You can see the historic Nelson's Dockyard from up there. It is the oldest working shipyard as of today and a UNESCO World Heritage Site. If you visit during the sailing regatta you will experience some of the finest sailing. The cruise port is also a very busy place. If you choose to cruise there you will be greeted by the" Quay". It is a pedestrian walk filled with unique shops, restaurants and bars. Wandering around you will find colorful exteriors, neatly kept shops and engaging people.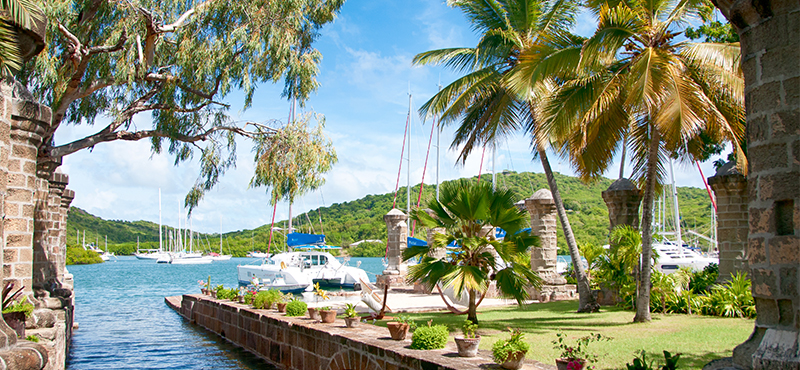 6-Some of the best Rum. The Caribbean is known for their local rum. Every Island boasts who's is the best. There is no way you can go there without sampling the rum.
7-Local fruit and vegetable markets and the warmest people you meet. Connecting with people and cultures is one of our most favorite reasons to travel and explore other countries.
8-Carnival in Antigua. Once a year in July the island has Carnival. It changes into this colorful, vibrant, loud and lavish party. The main activity is to partake in the drink and the merriment of parade. Bands dress in lavish bejeweled costumes, and every band a different color. If you would like to participate for a fee you can be the "Queen" of Carnival for a mere 300 or so US dollars. It is one of those moments you never forget.
9- Environmental Protection. Antigua takes this seriously. Leave no trace is what you will hear the guides telling you. You definitely notice how clean it is wherever you go. Nature is as important as tourism is to the people of Antigua.
10- Island hopping is super easy.  From Antigua, you can reach the idyllic island of Barbuda by a 15-minute flight or a 90-minute ferry ride.
Have you been to Antigua yet?  If so, what was your most favorite memory?
Ready for your next Caribbean getaway?